Announcements
PhD alumna awarded fellowship at Oak Ridge National Laboratory
Kelly Chipps, who received her PhD in Applied Physics from Mines in 2008, will study the nuclear reactions which power extreme astrophysical phenomena such as novae, supernovae, and x-ray bursts, using the cutting-edge Jet Experiments in Nuclear Structure and Astrophysics (JENSA) gas jet target in conjunction with radioactive ion beams from the ReA3 facility at the National Superconducting Cyclotron Laboratory and the latest reaction theory formalism. She currently works at the University of Tennessee.
The Liane B. Russell Fellowship, which honors the groundbreaking geneticist, provides funding over three years along with mentorship to align their research with Department of Energy programs. ORNL receives 80 percent of its $1.65 billion annual budget from the DOE.
---
Joint Mines project among four to share $1.2M from Physics Teacher Education Coalition
The four new comprehensive sites selected to develop their physics teacher education programs into national models are Rowan University, Texas State University, West Virginia University, and a joint University of Northern Colorado/Colorado School of Mines project. Funding for the new sites, up to $300,000 per site over three years, will begin in fall 2015.
---
Engineering Physics Undergraduate Wins Grand Prize at Colorado Undergraduate Space Research Symposium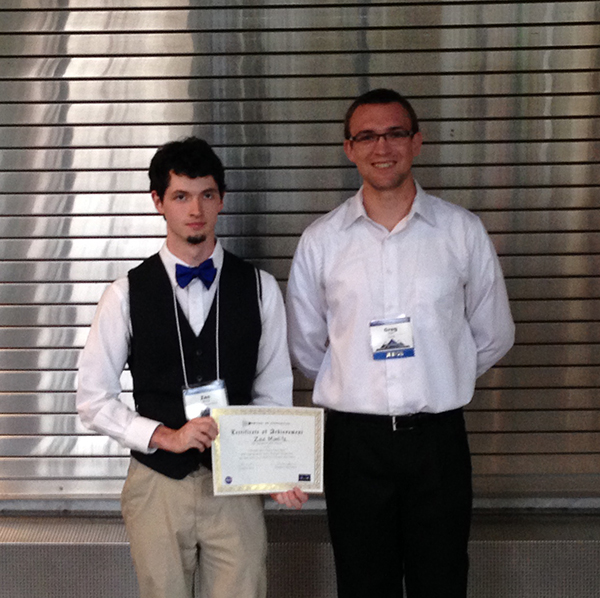 Zachary Mimlitz, a Colorado School of Mines sophomore majoring in Engineering Physics, was awarded the $1,000 Grand Prize at the recent
Colorado Undergraduate Space Research Symposium
(CUSRS) for the overall highest scoring for his paper and presentation, entitled "Goal Oriented, Risk Mitigating Autonomous Behavior for Extraterrestrial Rovers."
FULL STORY >>
---
Engineering Physics Student Tessa Hennigh Receives $155k Grant
2015 Engineering Physics graduate Tessa Hennigh has received a $155,000 nuclear energy research grant to start her graduate work in Nuclear Engineering at Colorado School of Mines.
---
Eric Toberer recognized in Physics Today

Assistant Professor of Physics Eric Toberer, who recently received a Cottrell Award, was recognized by the Research Corporation for Science Advancement via an ad on the inside front cover of the May 2015 issue of Physics Today.
---
Physics hosts Commencement reception for students, families
The department welcomed students, family, and friends in a reception at Friedhoff Hall in the Green Center after Commencement. Several graduates were also recognized with awards.
---
Physics faculty take home major awards at Faculty Forum
Professor Lincoln Carr received the Dean's Excellence Award, given to full-time tenured or tenure-track faculty members who have demonstrated significant achievement in both teaching and scholarship. Teaching Professor Patrick Kohl received the Alumni Teaching Award for teaching faculty, and was also named Outstanding Faculty in Physics by students.
Also announced at the Faculty Forum were Charles Durfee's promotion to professor, and Thomas Furtak being named University Emeritus Professor.
---
Mines dedicates Ryan Sayers Lab in Chauvenet Hall
Ryan Sayers was a promising math and physics major at Colorado School of Mines, killed in a lightning strike in 2003 while mountain climbing in Wyoming. His legacy lives on at Mines with the Ryan Sayers Memorial Pi Fun Run, the award and scholarship in his name given since 2004, and now the Ryan Sayers Lab.
This year's Ryan Sayers Memorial Scholarship was awarded to Physics major Jacob Neuman.
---
Physics research wins Proof of Concept award
Associate Professor Charles Durfee and Steven Hill's project, "Solid-state Laser Pumping with Advanced High-brightness LED Sources," is one of four projects to receive funding through the School of Mines Proof of Concept Program, to help advance concepts to the commercial marketplace.
---
SPS students bring STEM museum to middle-schoolers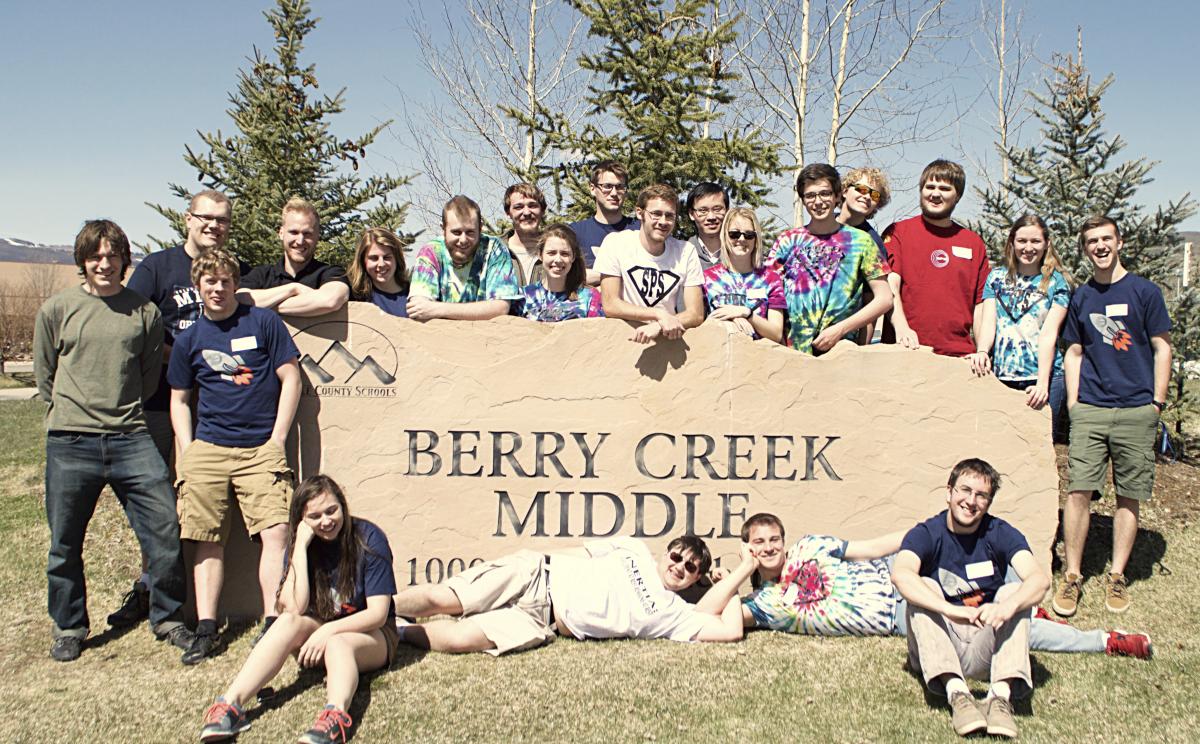 Members of the Society of Physics Students at Mines are doing their part to cultivate the next generation of scientists and engineers, particularly young people from historically underrepresented groups. On April 7, 21 students traveled to Berry Creek Middle School in Edwards, about 100 miles west of Golden, as part of their Future Faces of Physics outreach program. Throughout the school day, they staffed 10 museum stations featuring hands-on demonstrations that they designed and constructed.
---
Collins talks academic publishing
With plenty of humor, Physics Professor Reuben Collins shared insights into the world of academic publishing, particularly the challenges it is facing, via his Faculty Senate Distinguished Lecture on March 26.
---
Toberer receives Cottrell Scholar Award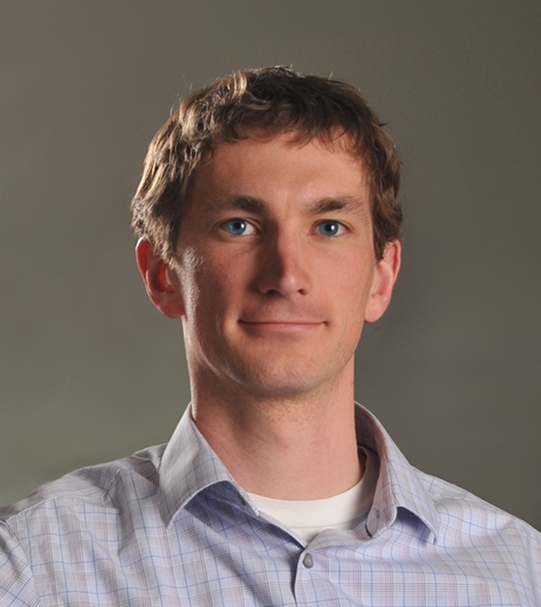 Assistant Professor of Physics Eric Toberer has received an award that will further his research into improving the conversion of heat into electricity, as well as support his pioneering techniques in teaching undergraduates higher-level physics.
---
Students pie professors to celebrate Pi Day
Faculty in the Department of Physics took pies to the face for a good cause March 20.
Organized by the Mines chapter of the Society of Physics Students, Pi-a-Prof also belatedly celebrated Pi Day – March 14. The group collected donations in separate buckets, and professors received a pie in the face for every $50 donated in their name.
The donations will help fund SPS' community outreach efforts. This spring, SPS will bring a STEM museum to Berry Creek Middle School in Edwards, CO, to encourage interest in science and technology among under-represented groups. SPS also holds a Haunted Physics Lab in the fall.
---
Vince Kuo and Kristine Callan receive PhysTEC Comprehensive Site Award
Professors Vince Kuo and Kristine Callan received the 2015 Physics Teacher Education Coalition (PhysTEC) Comprehensive Site Award--one of four awarded nationally--in collaboration with UNC-Greeley. PhysTEC is a partnership between the American Physical Society (APS) and the American Association of Physics Teachers (AAPT) with primary funding from the National Science Foundation. PhysTEC seeks to improve and promote the education of future physics teachers.
Physics Alum on the cover of Applied Optics
CSM Physics alum Alex Yuffa is featured on the cover of the December 2014 issue of Applied Optics. The cover article, on which Alex is first author, details how 3D topological images can ultimately be reconstructed from a long-wavelength infrared vector image. Read the article Yuffa, et. al, Applied Optics, Vol. 53, Issue 36, pp. 8514-8521 (2014).
Lincoln Carr named APS Fellow
Professor Lincoln Carr has been named a fellow of the American Physical Society. His citation reads, "For contributions to the theory of ultracold quantum gases, including solitons, vortices, and nonlinear dynamics."
Alumna Develops Inexpensive Cell Phone Microscope
Rebecca Erikson (B.S. Engineering Physics, M.S. Applied Physics), working at Pacific Northwest National Laboratory, has developed a microscope that costs less than $1 in materials, can be fabricated with a relatively inexpensive 3D printer, and will turn a cell-phone camera into a 1000x microscope. See the complete story at phys.org.
Reuben Collins named Editor in Chief of Applied Physics Letters
Professor Reuben Collins has been named the next Editor-in-Chief of Applied Physics Letters. By consistently publishing timely, high quality science, APL is and remains the most highly cited journal in Thomson Reuters' Applied Physics category.
Chuck Stone named AAPT Fellow
Teaching Professor Chuck Stone has been named a fellow of the American Association of Physics Teachers. Chuck was recognized for his "exceptional contribution to the mission of the AAPT to enhance the understanding and appreciation of physics through teaching."
Mark Coffey awarded Fulbright Specialist Grant
Physics Research Professor Mark Coffey has been awarded a Fulbright Specialist grant for work with Cardiff University in Wales, U.K. He will give a number of lectures at Cardiff and will continue work on projects and applications on which they have collaborated for several years.
Steven Hackenburg wins Undergraduate Research Presentation Award at APS March Meeting
Steven Hackenburg, an undergraduate research fellow working with Professor Lawrence Wiencke, won an Undergraduate Research Presentation Award at the APS March 2014 meeting. His presentation was titled "Aiming lasers into the sky from the Pierre Auger Cosmic Ray Observatory at astrophysical objects of interest." He is featured at timestamp 2:10 in the video below. Jeremy Fenn, another student working with Dr. Wiencke, is featured at timestamp 1:18.
SPS Chapter Awarded Future Faces of Physics Award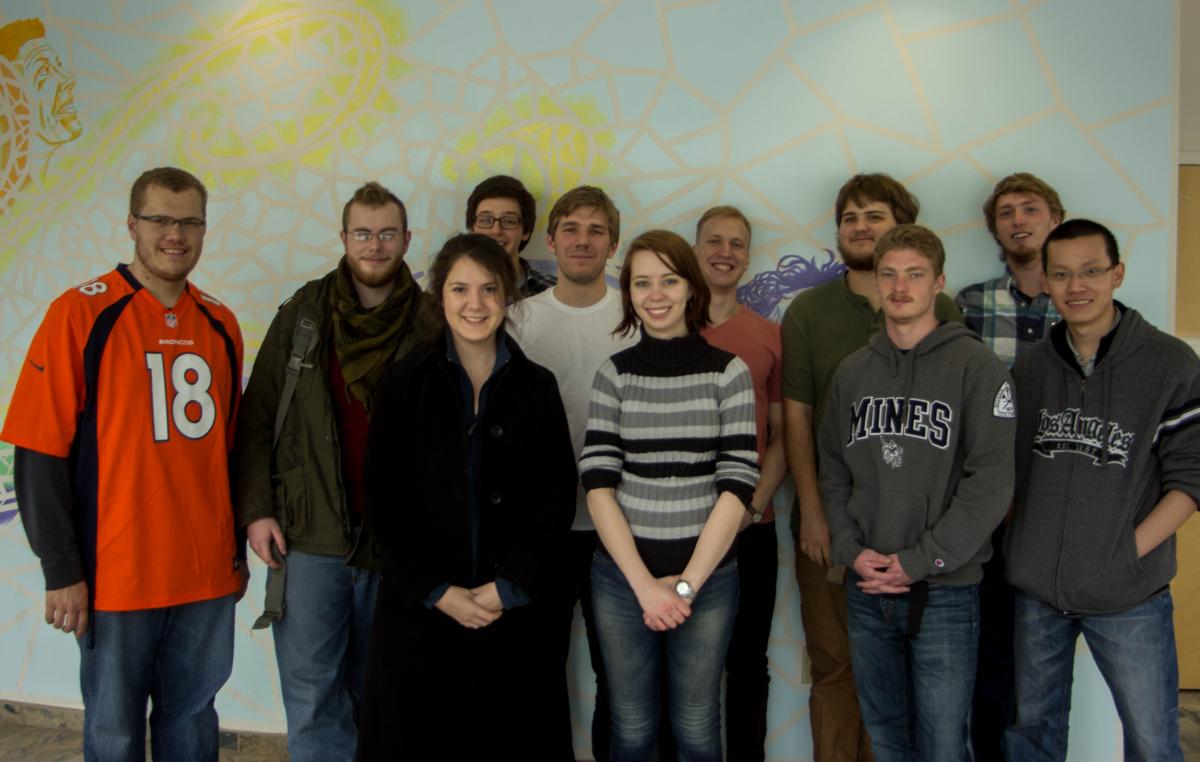 Our CSM Chapter of the Society of Physics Students (SPS) has received a $300 Future Faces of Physics Award from the national governing body of SPS and Sigma Pi Sigma. This grant enables SPS representatives to travel to two rural high schools in Colorado that serve underpriviledged and underrepresented groups in physics.
Thomas Brenner awarded AERI Post-Doctoral Fellowship
Physics Ph.D. candidate Thomas Brenner has been awarded an Alternative and Sustainable Energy Research Initiative (AERI) post-doctoral fellowship from the Weizmann Institute of Science in Israel. The fellowship supports two years of research at the Weizmann Institute, and a third year of research at an institution of his choice. Thomas is finishing his doctorate in solar cell this semester, and will continue that work at the Weizmann Institute.
Jeff Squier Named Recipient of the SPIE Harold E. Edgerton Award
The Officers and Directors of SPIE have named Professor Jeff Squier the 2014 recipient of the Harold E. Edgerton Award in recognition of his "seminal contributions to femtosecond lasers and amplifiers, laser filamentation, ultrafast spectroscopy, femtosecond micromachining, ophthalmic procedures with ultrafast lasers, and high-speed nonlinear optical microscopy."
Check out our video to learn more about Physics at CSM!
CSM PhD grad Michael Wall wins National Thesis Award
Congratulations to Dr. Michael Wall for winning the 2014 Nicholas Metropolis Award for outstanding doctoral thesis work in computational physics, from the Division of Computational Physics of the American Physical Society. Dr. Wall is now doing a post-doc at JILA, one of the top institutes in the world in his field of ultracold quantum gases. We are very proud of our spectacular PhD students!
Society of Physics Students named Outstanding Chapter for Sixth Consecutive Year
Congratulations to all our SPS students (Leah Moldauer, President) and their advisor Chuck Stone for again being honored with the 2012-2013 Outstanding Chapter Award. Fewer than 10% of SPS chapters receive this designation in any given year.
Chip Durfee named Fellow of Optical Society of America
The Board of Directors of the Optical Society of America elected Chip Durfee a Fellow of the Society at its meeting on October 8, 2013. The number of fellows is limited to no more than 10% of the total OSA membership.
Chip was recognized "for the development of the hollow core waveguide technology for high harmonic generation, which has led to engineered XUV light sources for attosecond science.
Using Sound Waves for Bomb Detection
Professor John Scales is part of a collaboration developing a remote acoustic detection system that can distinguish between low-yield and high-yeild explosives. You can read more on phys.org.
Kristine Callan Joins Faculty
Kristine Callan earned her PhD in Physics at Duke University in the summer of 2013. She studied small networks of chaotic systems and devised methods to determine global network properties from local dynamical measurements. While at Duke, she also earned the Dean's Award for Excellence in Teaching, in addition to attending many of the Duke men's and women's basketball games. Prior to completing her PhD, Kristine spent two years teaching physics at an all-girls high school in Boston, Massachusetts. She is originally from Central Oregon and looks forward to the similar climate and outdoor activities that Colorado provides.